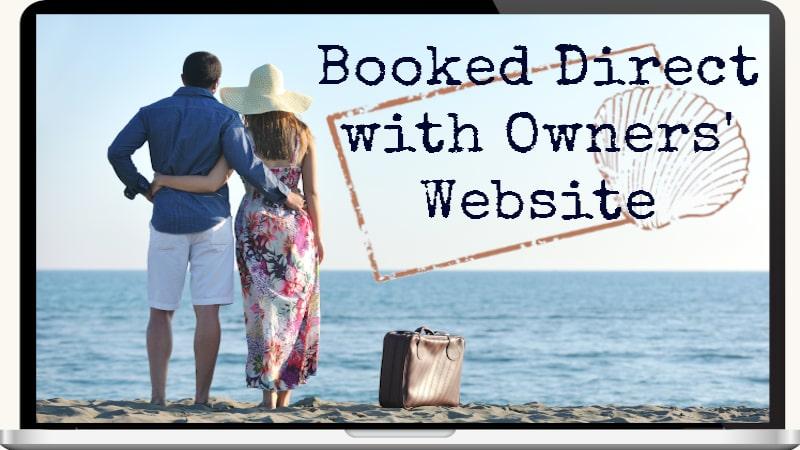 Here's the kicker: Any vacation rental business which doesn't have a branded, custom bookable website in the next few years will soon fall behind their competition.
This might sound like a bold statement, especially to many of addicted OTA evangelists. Yet, just a quick glance at the current Vacation Rental ecosystem reveals major, tectonic shifts moving the plates towards the #bookingdirect versus #propertylisting shores. There are many reasons for that, so let's explain the main ones.
OTA's & the sharing economy have led to increased price sensitivity creating extra demand for the alternative services.
If there was any doubt as to Airbnb's true intentions of entering the OTA space and start aggressively competing with online travel agency giants such as Booking.com and Expedia, they need to be laid to rest immediately after Airbnb announced the formation of a technology partnership with SiteMinder, a cloud-based channel management platform used by more than 28,000 hotels around the world.
The lure of higher commissions from hotels in the range of 15%-20% vs the lesser 3%-6% from private accommodations is the main reason why Airbnb is venturing into the OTA space.
The other one: #bookingdirect competition from the big Hotel cartels on one side of the aisle, and, be ready for this: the independent vacation rental property owners which websites offer a direct booking integration (sic).
Travellers are becoming increasingly more internet savvy.
Statistics from Hotels.com's Mobile Travel Tracker study, highlighting that 42% of global travellers have made a reservation via their smartphones. Slightly more surprising still, 10% have even booked their stay right in front of the property itself.
Just by Googling for organic results, local search results, featured snippets or image search, many properties will appear here and not on listing sites.
People are becoming highly dependent and influenced by the information and recommendations given by friends and other travellers, which makes the internet and especially social media and travel blogs and forums key factors in making up their minds around picking up their next travelling destination and accommodation. They use the internet and social media search functionality to window-shopping around for the best deal, rather than relying solely on the big OTAs.
So who do you think benefits the most by this "new-new-age" setup?
With your own website, you're in control. You can integrate as many social media channels and be proactive in as many different social media platforms (Facebook, Twitter, LinkedIn, Instagram, Pinterest), as you find to be a fair measure. You can increase exposure by sending traffic from social media profiles, directories and forums to your site.
This is a privilege that your OTA's competitors can't effectively afford through those platforms.
With booking direct, there are no hidden costs.
Savvy customers and price sensitivity are one of the leading motivational drivers behind the increasing trend of direct bookings via vacation rental websites.
When booking with the sites like Expedia, Hotels.com, TripAdvisor, etc., the travellers can end up paying hidden fees and commissions associated with a third party involved in their reservations. These can be anywhere from 4% to 20% higher than booking directly with your custom website as there are no hidden fees.
They simply wish to avoid a middle-man.
You can rest assured that you aren't paying any additional fees every time you receive a booking.
Nearly every major OTA or listing site applies booking fees of up to 20% for travellers. This 'covers the costs of operating sites, facilitating transactions, developing products and providing customer service.
However, at Airbnb, that amounts to 3-5% of the rental total from your guests. For shorter stays, that won't hurt much. But when you manage to land a long-term guest staying for several weeks, suddenly that 3% fee feels a little more painful. When you take into account your weekly or monthly discount to entice longer-staying guests, it really cuts into your profit margin.
You can offer a more competitive price.
As you can afford to reduce prices due to no commission being applicable, in many cases, the best price is to be found by enquiring via vacation property rental websites directly
Communicate directly with guests and accept bookings right through your website.
Your website gives you a unique opportunity to establish direct contact with your guests and earn their trust.
They will experience the advantage of communicating with the real people located right there onsite to help them with anything they need during the booking process (no robots or outsourcing!).
Consumers who book directly with the property manager or homeowner are more and more aware of the likeliness to receive additional benefits, including special rates, onsite services, and increased customer support.
Plus, by adding additional content to your website, you can direct them to activities, restaurants, and area service providers. During non-peak travel times, you can have special offers available.
More content-rich, user-friendly and Google (SEO) friendly
With your vacation rental website, only your business creativity and the sky are the limits.
The listing platforms will showcase every listing in the same way for clarity, and while that's great for the guests sifting through the many listings that may match their rental criteria, it doesn't do much for you. For most travellers, it actually appears very cold and impersonal.
You can add a lot more detail to your websites than can be found in a relatively short standard OTA listing. You can make a slideshow, a unique gallery, or simply pepper your pictures throughout your site. Owner bios, distances, reviews, awards and accreditations, galleries, weather, virtual tour... Show your guests what you've got!
This abundance of useful and highly optimized (SEO) information is a great way to promote your property via your own website and be visible in different search engines.
Let's don't forget, Google is still the friend of every internet surfer. If someone is really curious and not interested in sorting through dozens of vacation rental listings, they'll be more likely to find just what they're looking for by using a regular search engine.
Batter handling of your vacancy calendar
Lots of property managers will have a minimum stay implemented across numerous listing sites but may actually be more flexible to a shorter stay if booked direct given no applicable OTA commission. This may apply especially in off-peak seasons.
Channel Manager
Building your own vacation rental website allows you the possibility to synchronize any external channels and reservations you receive into one centralized calendar via a channel manager. This takes the hassle out of managing multiple listings and helps streamline the overall running of your business.
Once online, the extra work is limited to your duty to keep your calendars up to date, while a Channel Manager keeps an overview in real-time.
You'll save time
When we are lucky enough to have your guests book directly with your vacation rental property website, you can have one phone call (or email thread) and gather all the information you need so you can truly get to know your customers
With your own vacation rental website, you can build an outstanding BREND.
Branding is often overlooked by smaller vacation rental operators, but it's a huge factor that helps to differentiate one short-term rental from its competition.
Think about all the vacation rentals listed on the major platforms: There are literally thousands. Now think about how many of those thousands have their own individual and unique websites showcasing their awesomeness. There aren't nearly as many.
Want to stand out from the crowd? Set up your own website. A stylish dedicated website distinguishes your holiday let from its competitors.
You are building your brand by letting the customers spread a word. One of the most effective ways of doing this is by customer reviews. Most vacation rental listing platforms have a space for reviews left from previous guests for potential renters to see and better gauge how you'll be as a host.
But what if you had complete control over what the reviews said? What if you could curate reviews specifically from your favourite guests?
With your own property website, you can. You set the tone, decide what stays and what goes, and where and how you want to display your praise.
A professional website BRANDS your business so that your past renters remember where to find you and can easily refer their friends.
Cherry on top - It's much easier than you think to get your custom vacation rental website.
People think of building their own website, and they think of expensive and timely programming, designing, marketing and so on.
Well, if you have a stack of cash, then you can hire a team of professionals to develop you a custom website.
But if you have a limited budget, thankfully there are tools and online services out there that make this a HUGE amount easier.
There are services like BookingReady.com which are fully dedicated to the vacation rental industry and will offer you a fully-featured website with free hosting included - all for FREE if you are using their website-builder feature. You can quickly build a website without learning any Coding or Programming stuff. You can choose one of the many templates and just change the text and pictures.
In addition, if you wish to make a multi-property website or let them set it all up for you, their plans are starting from just $4.99 per month. And you are still entirely in control of your website content, design, booking engine, availability calendar, and updates. You can tweak your site according to your specific requirements to make it completely adaptable to your business model.
Compare it to any other options on the market or standard OTA's features and rates, you will find the possibility of having your own branded website suddenly much more appealing and favourable.
In Conclusion:
Having your own website means your business is in your hands – there are no restrictions on what you can publish, and best of all, there aren't any commissions or additional fees to pay like there are with listing sites and online travel agencies.
As most travellers search for their destination online before making decisions, it is imperious that you should maintain an online presence.
In turn, a website can help boost bookings, build up your brand and credibility, and pave the way for becoming listing site independent.