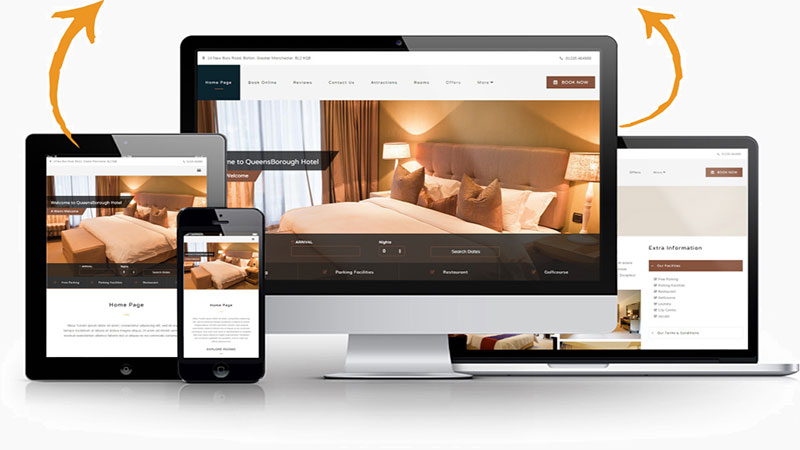 Why do i need a responsive website for my hotel
Tablets and smart phones  have changed the way we search and book accommodation - if you don't want to lose your customers - use responsive web design website builder for accommodation property rentals
Rapid growth int the variety and usage of mobile phones changed the whole digital game. Nowadays if your website can not be seen properly on Smartphones and tablets - you risk the possibility that impatient users will just leave your website or even wose move to your competitors websites and apps. Mobile phones come with different resolutions and screen sizes - all of this implies that you need solution that would adjust to every screen size and decrease your traditional website bounce rate.
What is Responsive Website Design for your hotel?
A Responsive Website Design is a website that adjusts to every screen size providing your website visitor with the best possible user experience. if you decide to use vacation rental website design provided by bookingready.com  any template that is adjusted to your own needs will be automatically adjusted to every screen size.
Why should you choose a Responsive Web Design ?
1. User Experience
Responsive Design for accommodation property rentals has improved UX based on any survey undertaken so far - the fact that your website is shown on each device consistently improves your brand  loyalty and enables attachment of positive feelings towards your hotel.
2. Search Engine ranking
Google recommends usage of responsive design and rewards websites made with responsive design with higher ranking and position in the search results. Another advantage is that links created for desktop are the same ones used by tablets and mobile phones so there is no link dilution. Also responsive design websites made for accommodation property rentals have no problems with duplicate content . Besides all of this - responsive web design for your hotel will decrease bounce rate thereby improving your overall UX - factor that has been important for Google website ranking for the last several years.
3. Conversion and Sales
Improved consistency and easy of booking will definitely improve both your conversion rate and you overall sales levels
4. Reach your customers anywhere
Send consistent message to your customers regardless of the place they reach your website.
5. Time for update
The fact that you need only to update your website once saves you a lot of time and energy. Also responsive design is great for Google glass, or any other device that will come up soon.
6. No need for separate android application
For websites that use responsive design there is no need for separate android application.
There are more reasons for using responsive design - for example for those who want to use adsense as a monetization tool - Google provides specialized ads for responsive design - which will have greater CTR and ROI.

With booking ready (www.bookingready.com) you get free responsive rental websites for hotels, hostels, apartments, cottages, villas, houses and any other accommodation property rentals.